Vancouver, Canada – September 10, 2023 – Arbor Metals Corp. ("Arbor" or the "Company") (TSXV: ABR, FWB: 432 is pleased to announce the deployment of its exploration team to the Company's Jarnet lithium project in the James Bay region of Quebec, Canada. The exploration program spans several days and will encompass mapping, prospecting activities and drilling of potential targets. The team will be stationed at a lodge in Northern Quebec, strategically situated near the project claims, to ensure efficient access to the site via helicopter. A qualified Quebec geologist will oversee the program, conducting a final verification and preparing an assessment report.
Incorporating the latest technological advancements, the Company has integrated a laser-induced breakdown spectroscopy (LIBS) laser spectrometer into the exploration program. This cutting-edge technology will play a pivotal role in expediting the assessment of whether lithium-bearing minerals exist within the pegmatite dikes on the Company's Jarnet lithium project.
The LIBS laser spectrometer is specifically designed to identify and assess lithium-containing minerals, focusing on minerals like spodumene. This advanced instrument utilizes a pulsed laser to transform a sample into a plasma state, followed by optical analysis across various wavelengths, including visible light, ultraviolet (UV) and infrared (IR) spectrums. Renowned for its accuracy and reliability, the LIBS analytical approach has delivered consistent success for lithium exploration efforts in various lithium-rich regions worldwide, including the Corvette Lake camp.
Mark Ferguson, President and CEO of Arbor, expressed his excitement as the Company's 2023 exploration program kicks off. He commended his team for their proactive approach in revising the exploration plan to ensure the successful completion of the program despite the delays caused by the wildfires that swept through Quebec over the summer. Ferguson also conveyed his gratitude to the firefighters and other dedicated individuals who worked tirelessly to combat the wildfires.
Management Update
The Company's annual general and special meeting on August 11, 2023, approved all presented matters. Following the meeting, Richard Ko assumed the position of Chief Financial Officer and Corporate Secretary of the Company.
Arbor remains dedicated to its exploration endeavours and will provide updates as the program progresses.
Technical aspects of this news release have been reviewed, verified and approved by Dr. Peter Born, P.Geo, a Director of Arbor and a qualified person as defined in NI 43-101.
About Arbor Metals Corp.
Arbor Metals Corp. is a mining exploration company focused on developing high-value, geographically significant mineral projects worldwide. Arbor is paving the way for advanced mineral exploration as it oversees world-class mining projects. The Company is confident that combining quality projects with proven strategies and a dedicated team will yield exceptional outcomes. Arbor currently oversees three outstanding mineral projects.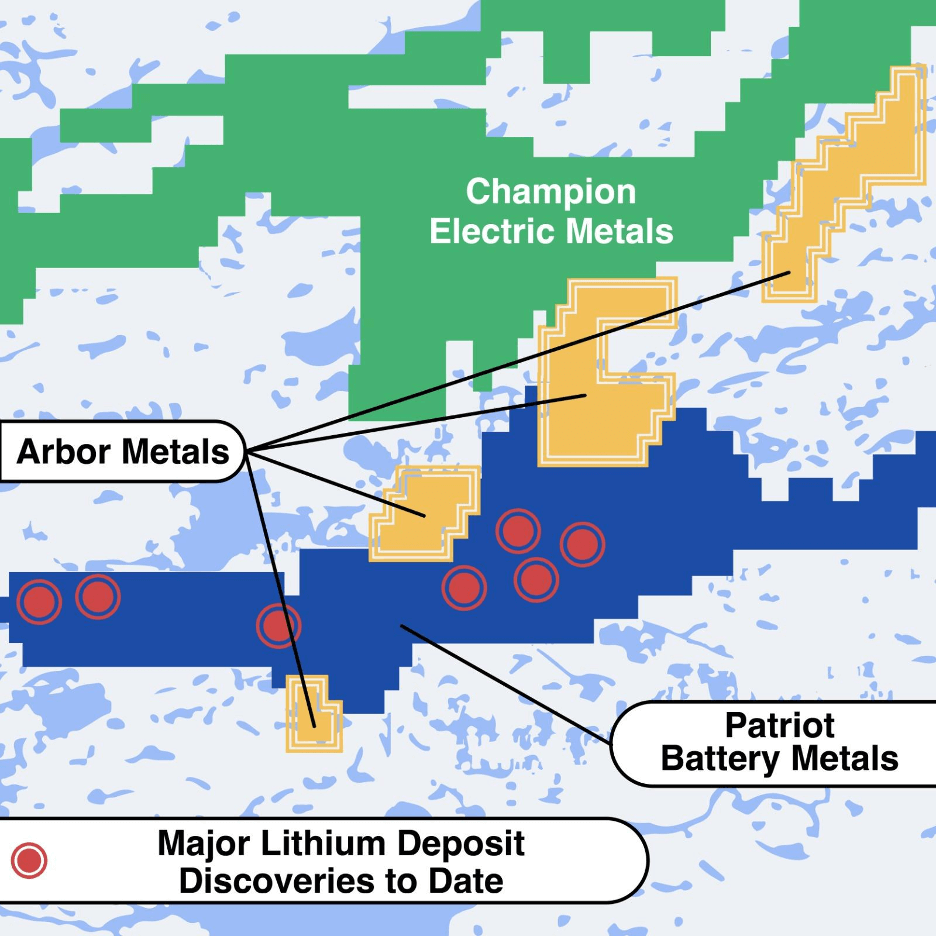 For further information, contact Mark Ferguson, Chief Executive Officer, at info@arbormetalscorp.com, or 403.852.4869, or visit the Company's website at www.arbormetalscorp.com.
On behalf of the Board,
Mark Ferguson, Chief Executive Officer
Neither the TSX Venture Exchange nor its Regulation Services Provider (as that term is defined in policies of the TSX Venture Exchange) accepts responsibility for the adequacy or accuracy of this release.
This news release may contain certain "Forward-Looking Statements" within the meaning of the United States Private Securities Litigation Reform Act of 1995 and applicable Canadian securities laws.  When or if used in this news release, the words "anticipate", "believe", "estimate", "expect", "target, "plan", "forecast", "may", "schedule" and similar words or expressions identify forward-looking statements or information.  These forward-looking statements or information may relate to the development of the Jarnet Lithium Project, and other factors or information.  Such statements represent the Company's current views with respect to future events and are necessarily based upon a number of assumptions and estimates that, while considered reasonable by the Company, are inherently subject to significant business, economic, competitive, political and social risks, contingencies and uncertainties. Many factors, both known and unknown, could cause results, performance, or achievements to be materially different from the results, performance or achievements that are or may be expressed or implied by such forward-looking statements. The Company does not intend, and does not assume any obligation, to update these forward-looking statements or information to reflect changes in assumptions or changes in circumstances or any other events affecting such statements and information other than as required by applicable laws, rules and regulations.