Vancouver, Canada – June 12th, 2023 – Arbor Metals Corp. ("Arbor" or the "Company") (TSXV: ABR, FWB: 432) announces the successful completion of a detailed spectral analysis of the Jarnet Lithium project located in the James Bay region of Quebec. This comprehensive study marks a significant milestone in advancing our understanding of the lithium potential in this promising area.
In the analysis conducted by our team of experts, four discrete datasets were meticulously correlated with 81 lithium-bearing rock chip samples collected at the Jarnet site. Additionally, we carefully examined the presence of significant spodumene-bearing pegmatites on adjoining projects. By integrating multiple data sources, including resistivity measurements and gas emissions, we aimed to gain comprehensive insights into the lithium-rich geological formations of the area.
The findings from this study hold great promise for the Jarnet Lithium project and the surrounding region. The spectral analysis allowed us to identify and characterize various lithological units indicative of lithium mineralization potential. These valuable insights will guide our exploration efforts and decision-making processes as we progress with the project.
"We are thrilled to have completed this comprehensive spectral analysis of the Jarnet Lithium project," said Mark Ferguson, CEO of Arbor Metals. "The results obtained from this study provide us with a solid foundation to further explore the lithium potential in this region and advance our understanding of the geological factors influencing the presence of lithium-bearing deposits."
The Jarnet Lithium project, initially identified by the Company in 2021, has consistently demonstrated strong lithium prospects, making it a key focus area for our company's growth strategy. This recent analysis further confirms the project's potential and reinforces our commitment to unlocking its full potential.
Arbor remains dedicated to responsible and sustainable exploration practices. As we progress with the Jarnet Lithium project, we prioritize environmental stewardship and community engagement, ensuring that our activities align with the highest social and environmental responsibility standards.
Moving forward, Arbor will leverage the valuable insights gained from this spectral analysis to inform our exploration program at the Jarnet site. We remain committed to unlocking the significant lithium potential in the St. James Bay region and look forward to updating our stakeholders as we achieve key milestones in our journey.
Dr. Peter Born, P.Geo., is the designated qualified person as defined by National Instrument 43-101 and is responsible for and has approved the technical information in this release.
About Arbor Metals Corp.
Arbor Metals Corp. is a mining exploration company focused on developing high-value, geographically significant mineral projects around the world. Arbor is paving the way for advanced mineral exploration as it oversees world-class mining projects. The company is confident that combining quality projects with proven strategies and a dedicated team will yield exceptional outcomes. Arbor currently oversees three outstanding mineral projects.
The Jarnet lithium project, located in the James Bay region of Quebec, comprises 47 map-designated claims, covering an area of approximately 3,759 hectares. The Jarnet project is contiguous to the Corvette-FCI property, where diamond drilling has confirmed significant lithium mineralization, and represents one of the highest-profile lithium exploration projects in the sector.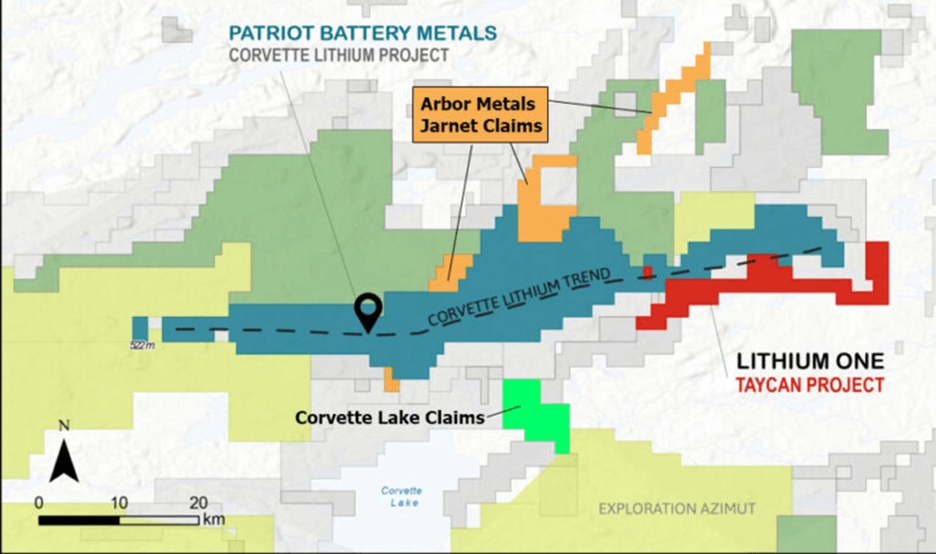 For further information, contact Mark Ferguson, Chief Executive Officer, at info@arbormetalscorp.com or visit the Company's website at www.arbormetalscorp.com.
On behalf of the Board,
Mark Ferguson, Chief Executive Officer
Neither the TSX Venture Exchange nor its Regulation Services Provider (as that term is defined in policies of the TSX Venture Exchange) accepts responsibility for the adequacy or accuracy of this release.
This news release may contain certain "Forward-Looking Statements" within the meaning of the United States Private Securities Litigation Reform Act of 1995 and applicable Canadian securities laws.  When or if used in this news release, the words "anticipate", "believe", "estimate", "expect", "target, "plan", "forecast", "may", "schedule" and similar words or expressions identify forward-looking statements or information.  These forward-looking statements or information may relate to the development of the Jarnet Lithium Project, the assessment of samples from that Project, and other factors or information.  Such statements represent the Company's current views with respect to future events and are necessarily based upon a number of assumptions and estimates that, while considered reasonable by the Company, are inherently subject to significant business, economic, competitive, political and social risks, contingencies and uncertainties. Many factors, both known and unknown, could cause results, performance, or achievements to be materially different from the results, performance or achievements that are or may be expressed or implied by such forward-looking statements. The Company does not intend, and does not assume any obligation, to update these forward-looking statements or information to reflect changes in assumptions or changes in circumstances or any other events affecting such statements and information other than as required by applicable laws, rules and regulations.