Vancouver, Canada – July 23rd, 2023 – Arbor Metals Corp. ("Arbor" or the "Company") (TSXV: ABR, FWB: 432) announces the engagement of a strategic consultant aimed at collaborating with other mining industry participants to secure substantial government support for Canadian miners, mirroring the support seen so far for major battery manufacturers. Arbor applauds the Canadian government's dedication to propelling the EV industry by giving substantial funds to battery manufacturers, an action vital for maintaining Canada's leadership in the global electric vehicle sector. Arbor seeks to support the interests of Canadian miners, recognizing their indispensable role as providers of key elements fueling the EV revolution.
Recently, the Canadian government provided significant financial support to facilitate the country's establishment and expansion of battery manufacturing plants. While praising the government's initiative to boost battery production, Arbor underscores the importance of Canadian miners who supply the essential minerals needed for EV batteries.
Mark Ferguson, Chief Executive of Arbor, expressed the Company's viewpoint: "We commend the Canadian Government's support of companies like Volkswagen and Stellantis-LG in their contribution to Canada's rapidly developing EV industry. However, we firmly believe that Canadian miners are equally critical to the success of this industry. As providers of vital elements for EV batteries, we envision a collaborative effort among all participants in the EV industry, from miners to battery manufacturers and end users, working together to advance the sector and meet the Net Zero goals set by various governments worldwide. Arbor is eager to collaborate with other industry participants in securing and shaping government support that ensures Canada's role as a leading force in the global EV revolution."
The strategic consultant aims to engage experts who can advocate for adequate government support to bolster the growth and competitiveness of Canadian miners in the EV supply chain. Arbor recognizes the need for strong partnerships between the government and the mining industry to foster innovation, exploration, and sustainable infrastructure development.
Recent press coverage emphasizes the Canadian government's assistance for EV industry participants. With the worldwide pivot towards green energy and decarbonization, nations like Canada are heavily investing in the EV sector to guarantee a sustainable future.
About Arbor Metals Corp.
Arbor Metals Corp. is a mining exploration company focused on developing high-value, geographically significant mineral projects worldwide. Arbor is paving the way for advanced mineral exploration as it oversees world-class mining projects. The company is confident that combining quality projects with proven strategies and a dedicated team will yield exceptional outcomes. Arbor currently oversees three outstanding mineral projects.
The Jarnet lithium project, located in the James Bay region of Quebec, comprises 47 map-designated claims, covering an area of approximately 3,759 hectares. The Jarnet project is contiguous to the Corvette-FCI property, where diamond drilling has confirmed significant lithium mineralization, and represents one of the highest-profile lithium exploration projects in the sector.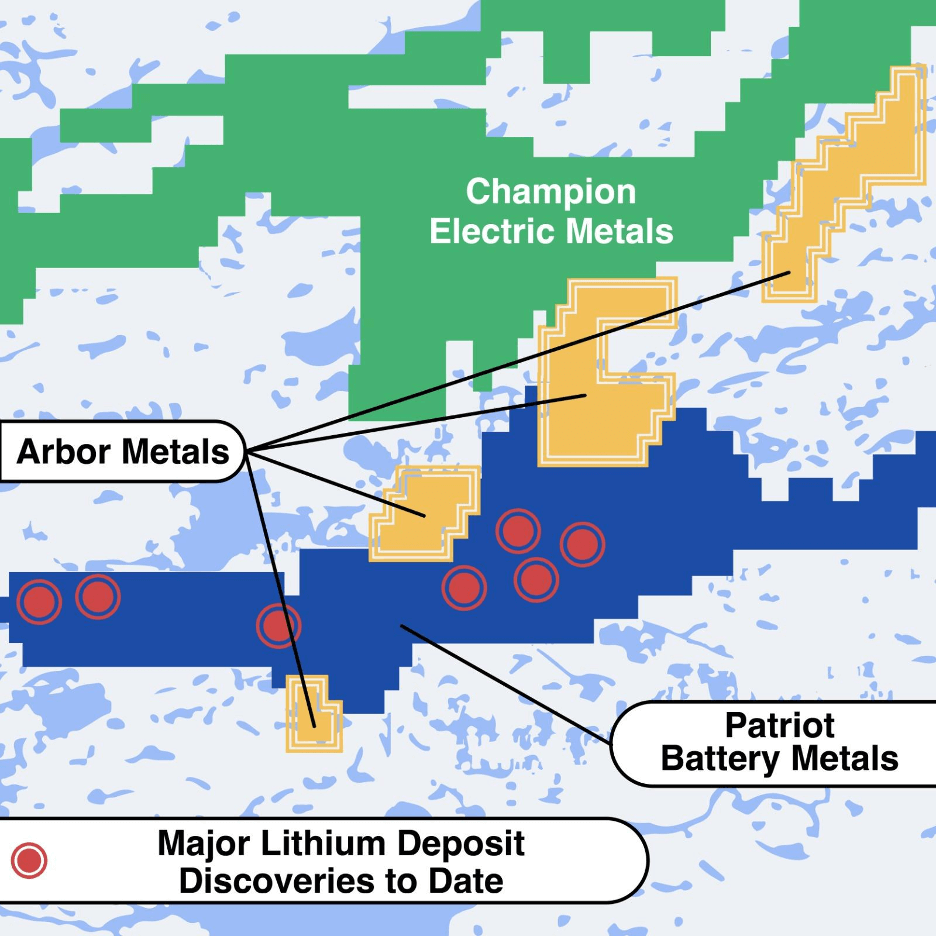 For further information, contact Mark Ferguson, Chief Executive Officer, at info@arbormetalscorp.com or 403.852.4869, or visit the Company's website at www.arbormetalscorp.com.
On behalf of the Board,
Mark Ferguson, Chief Executive Officer
Neither the TSX Venture Exchange nor its Regulation Services Provider (as that term is defined in policies of the TSX Venture Exchange) accepts responsibility for the adequacy or accuracy of this release.
This news release may contain certain "Forward-Looking Statements" within the meaning of the United States Private Securities Litigation Reform Act of 1995 and applicable Canadian securities laws.  When or if used in this news release, the words "anticipate", "believe", "estimate", "expect", "target, "plan", "forecast", "may", "schedule" and similar words or expressions identify forward-looking statements or information.  These forward-looking statements or information may relate to the development of the Jarnet Lithium Project, the assessment of samples from that Project, and other factors or information.  Such statements represent the Company's current views with respect to future events and are necessarily based upon a number of assumptions and estimates that, while considered reasonable by the Company, are inherently subject to significant business, economic, competitive, political and social risks, contingencies and uncertainties. Many factors, both known and unknown, could cause results, performance, or achievements to be materially different from the results, performance or achievements that are or may be expressed or implied by such forward-looking statements. The Company does not intend, and does not assume any obligation, to update these forward-looking statements or information to reflect changes in assumptions or changes in circumstances or any other events affecting such statements and information other than as required by applicable laws, rules and regulations.