Vancouver, Canada – April 17, 2023 – Arbor Metals Corp. (the "Company" or "Arbor") (TSXV: ABR, FWB: 432) announces that it has initiated DIRT Exploration of Cape Town, South Africa, to carry out a long-wave infrared survey ("LWIR") and interpretation of high-resolution satellite imagery over the four blocks comprising the Company's Jarnet Lithium Project and surrounding area in the James Bay region of Quebec. The Jarnet Lithium Project covers approximately 3,759 hectares and comprises 70 map-designated claims.
Located less than two km northwest of Patriot Battery Metals Inc.'s ("PMET") CV-5 pegmatite target, the Jarnet South block is the subject of Arbor's ongoing exploration efforts. PMET recently reported (PMET news release, March 29th, 2023) a high-grade extension (Nova Zone) of the CV 5 target of 87.7 metres averaging 3.13 per cent Li2O (lithium oxide), including 19.8 metres of 5.28 per cent Li2O.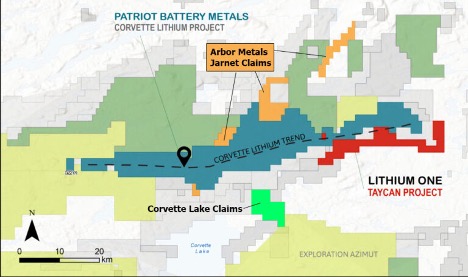 LWIR analysis has the ability to map or identify mineral distribution over extensive areas covered by foliage and shallow cover through reflectance spectroscopy against a set of known standards and proprietary processing of satellite data. The LWIR analysis can view mineral spectra to shallow depths, thanks to its ground-penetrating nature, utilizing the long-wave bands of infrared radiation. This survey, together with satellite imagery analysis, will incorporate data and known pegmatite occurrences that have been identified from the Company's 2022 reconnaissance-scale field program.
Arbor is currently compiling existing assessment and regional data on the four Jarnet claim blocks and surrounding properties. While some of the neighbouring properties have received limited attention on lithium mineralization, there is available geological and geophysical assessment data relating to exploration for base (Cu, Zn, Pb) and precious (Au, Ag) metal targets. The Jarnet South Block has southern and eastern boundaries contiguous with PMET Corvette Property, while the North Block is contiguous to PMET's Corvette Property on the southwest boundary.
The DIRT interpretive report and the Company's compilation will be used to refine proposed exploration targets on the Jarnet Project for the 2023 field season.
Note: The Company cautions the discoveries and observations on properties in proximity to the Company's properties are not necessarily indicative of the presence of similar mineralization or geology on the company's properties.
Dr. Peter Born, P.Geo., is the designated qualified person as defined by National Instrument 43-101 and is responsible for and has approved the technical information in this release.
About Arbor Metals Corp.
Arbor Metals Corp. is a mining exploration company that focuses on developing high-value mineral projects of geographic significance across the globe. As a leader in the industry, the company is dedicated to advancing mineral exploration and overseeing world-class mining projects. Arbor is confident that quality projects, proven strategies, and a professional team will lead to exceptional outcomes. Currently, the company holds three exceptional mineral projects.
One of these mineral projects is the Jarnet Lithium Project, which is located in the James Bay region of Quebec and is comprised of 47 map-designated claims that cover an approximate area of 3,759 hectares. The Jarnet Project is contiguous to the Corvette-FCI property, where diamond drilling has confirmed significant lithium mineralization and represents one of the most high-profile lithium exploration projects in the sector.
For more information, interested parties may contact Mark Ferguson, Chief Executive Officer, by sending an email to info@arbormetals.com or by visiting the company's website at www.arbormetalscorp.com.
On behalf of the Board,
Arbor Metals Corp.
Mark Ferguson, Chief Executive Officer
Neither the TSX Venture Exchange nor its Regulation Services Provider (as that term is defined in policies of the TSX Venture Exchange) accepts responsibility for the adequacy or accuracy of this release.
This news release may contain certain "Forward-Looking Statements" within the meaning of the United States Private Securities Litigation Reform Act of 1995 and applicable Canadian securities laws.  When or if used in this news release, the words "anticipate", "believe", "estimate", "expect", "target, "plan", "forecast", "may", "schedule" and similar words or expressions identify forward-looking statements or information.  These forward-looking statements or information may relate to the development of the Jarnet Lithium Project, the assessment of samples from that Project, and other factors or information.  Such statements represent the Company's current views with respect to future events and are necessarily based upon a number of assumptions and estimates that, while considered reasonable by the Company, are inherently subject to significant business, economic, competitive, political and social risks, contingencies and uncertainties. Many factors, both known and unknown, could cause results, performance, or achievements to be materially different from the results, performance or achievements that are or may be expressed or implied by such forward-looking statements. The Company does not intend, and does not assume any obligation, to update these forward-looking statements or information to reflect changes in assumptions or changes in circumstances or any other events affecting such statements and information other than as required by applicable laws, rules and regulations.